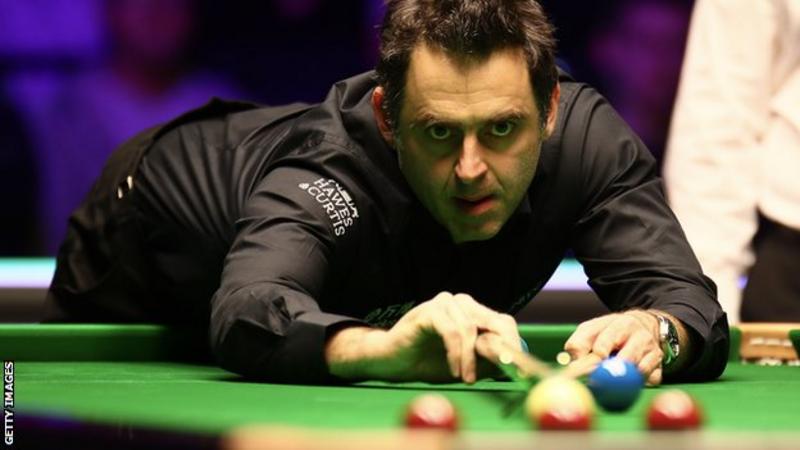 Ronnie O'Sullivan earned a 5-3 lead against a battling Mark Selby in the World Championship semi-finals.
O'Sullivan, 44, looked comfortable as he capitalised on 37-year-old Selby's errors to take a 4-1 lead in the first session of the best-of-33 match.
But Selby ended Wednesday just two frames down after a strong finish.
Earlier, Scotland's Anthony McGill took a shock 6-2 lead over Kyren Wilson in his first World Championship semi-final appearance.
World number 39 McGill, 29, started strongly to take a 3-0 lead and ended the session in similar fashion with a break of 92.
O'Sullivan and Selby's semi-final continues from 14:30 BST on Thursday, with Wilson and McGill starting at 10:00 BST.
Selby rallies to reduce O'Sullivan's lead
Five-time champion O'Sullivan, who called his quarter-final performance against Mark Williams "embarrassing", impressed with his long game as he won the first two frames.
Both players struggled with cue-ball contacts, possibly because of increased humidity, and Selby missed an easy blue in the third but the three-time champion claimed his first frame nevertheless.
O'Sullivan hit the highest break of the match, 85, to go in to the mid-session break with a 3-1 lead.
New balls were brought out after the break to try and counteract the contact issue but that did not help Selby as he missed a simple green and O'Sullivan took the fifth frame.
Selby, playing in his first World Championship semi-final since he won the title in 2017, edged the sixth to make the score a less daunting 4-2 before O'Sullivan extended his lead once more.
Both players struggled to close out the final frame but it was Selby who eventually came back from a 51-point deficit to end the day 5-3 down.
คาสิโนออนไลน์พาเพลิน
Line ID @ufa98v2